Environmental footprint
/
Footwear development
/
Leather
/
Production
/
Sneakers
/
Sustainability
OX sneaker, leather and sustainable
In these days of climate crisis there are a lot of discussions about the use of leather, artificial leather and other so-called sustainable materials. Alternative materials like pineapple, cactus, apple skin, mushroom, wine "leather", kombucha, are "hot"! However, non of these alternative materials have all the properties of leather. It will take long to weigh all features to come to a "final" conclusion what's best: Compare all aspects like material structure, use of hazardous substances in production of the material, the performance of the materials, the carbon footprint, origin of the material, biodegradability and traceability, what's the environmental footprint?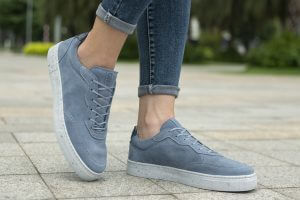 Is it responsible to use leathers nowadays? There is no single answer to this question.
Leather is one of the oldest and most used materials in footwear production, a multi-scale material designed by nature. It's durable and versatile, comfortable, flexible, stretchable, strong and breathable. The leathers used for the OX sneaker comes from Leather Working Group (LWG) certified tanneries. LWG is a global certification and membership body for industries within the leather supply chain. Important to manage the possible negative impact of leather production.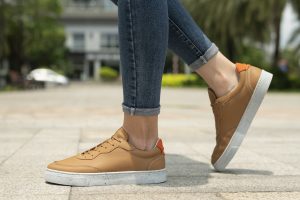 We all know that the upper of the footwear is most important but it's not only the upper material which counts – there are so many aspects and different components in footwear making.
Outsole materials : the cup sole of the OX sneaker is a light weight classical cup sole made of 100% recycled rubber
Lining : a breathable mesh, made of 50% recycled PET bottles
Insock : made of "LWG" soft sheep and pig leather – providing comfort that only leather can give
Footbed is an Ortholite premium footbed made of 85% cushioning foam
The laces are made of 100% recycles polyester
We should not forget that these are just some of the components, don't forget glue, thread, reinforcements, eyelets, applications etc. and of course packaging.
Once developing new collection we have to reconsider each single detail, both in the choice of materials as in the way we produce footwear.
Step by step improving and getting closer to the most responsible option.